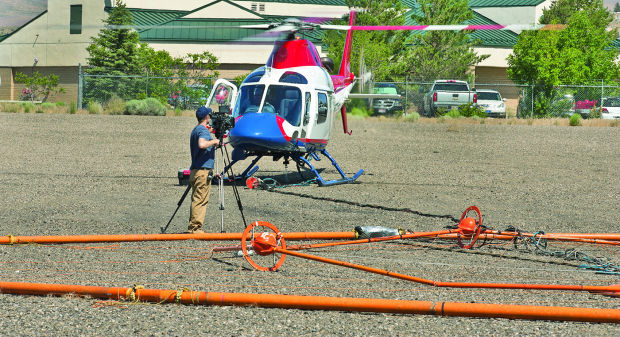 ELKO — Geotech takes to the air to figure out what's underground with its geophysical surveys.
On Monday, a AW-119 "Koala" helicopter and an 85-foot geophysical survey apparatus were at Elko Regional Airport to film promotional footage for Geotech. The film crew works for Cineplex, a company based in Canada.
Geotech specializes in airborne geophysical survey systems, according to Field Operations Manager Darren Tuck. The company's clients are usually mineral exploration businesses that are interested in starting up a mine, and use the survey to find promising mineral deposits, including coal, silver, iron and copper.
Tuck said an apparatus carried by a helicopter will produce an electromagnetic pulse into the ground it flies over. Those pulses reflect off magnetic readers, and Geotech makes a map of the area after the process.
"It provides our client with a map of what the underlying layers of a structure looks like," Tuck said.
Geotech is a global company based in Canada. Tuck said the company has worked for local mines, although he wouldn't name any of the company's clients in order to protect their confidentiality.
Tuck said the Elko airport was selected as the location to film Geotech's equipment, known as Versatile Time Domain Electromagnetic surveying. Tuck said Geotech has more than 30 VTEMs. The apparatus comes in a variety of sizes.
For information, visit www.geotech.ca.